Oakland, CA Realtor Doug Fuller has incredibly eclectic taste in Christmas music. Each year he puts together a Christmas CD for his friends and clients with a wonderful mix of unusual holiday music and SecretFanBase has been delighted to create memorable illustrations for the postcard "album covers".
Doug says:
I have worked with Robyn Adams for over three years now to design my annual holiday card. Each of the past 3 year's designs was dramatically different and unique. I have designed my own card for the past 8 years. No one ever said ANYTHING about my designs. My clients went out of their way, however, over the past three years to let me know how much they loved the card… calling me, sending me emails and reaching out to me on Facebook. Robyn's work is creative, detailed, and full of life. I highly recommend Robyn for her design skills. 
(Above) After the 2016 US presidential election we captured the mood of that holiday with as much humor as we could muster. This was a digitally painted photo-illustration, where he head and hand are painted photographs and the rest is freehand digital painting.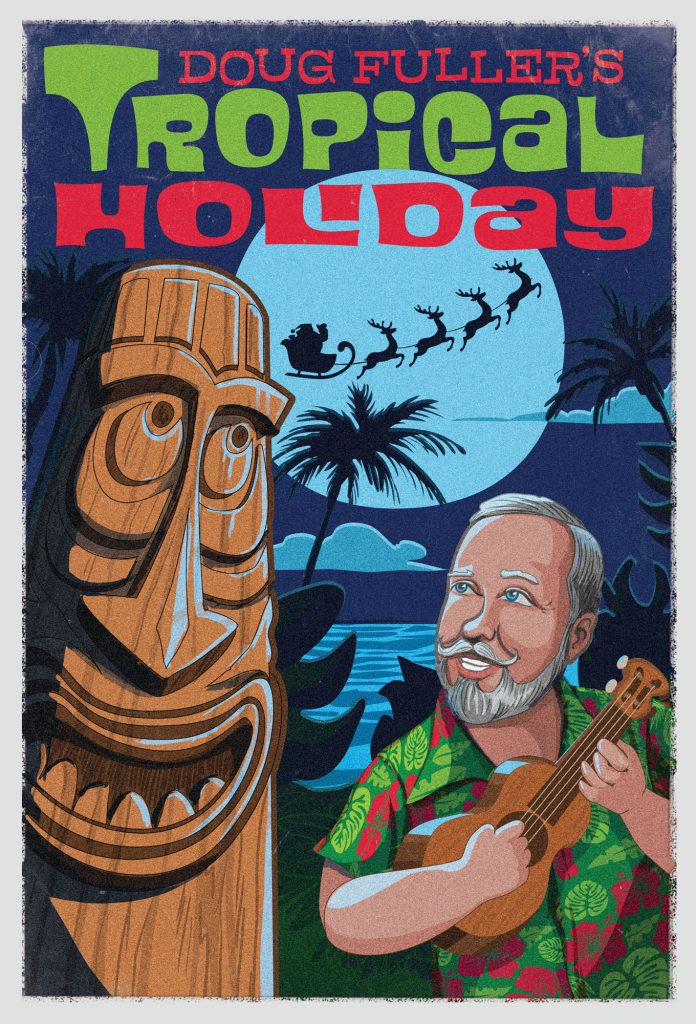 The 2017 Holiday Card switched to a postcard format at presented what I imagine to be an animated television Christmas special called Doug Fuller's Tropical Holiday.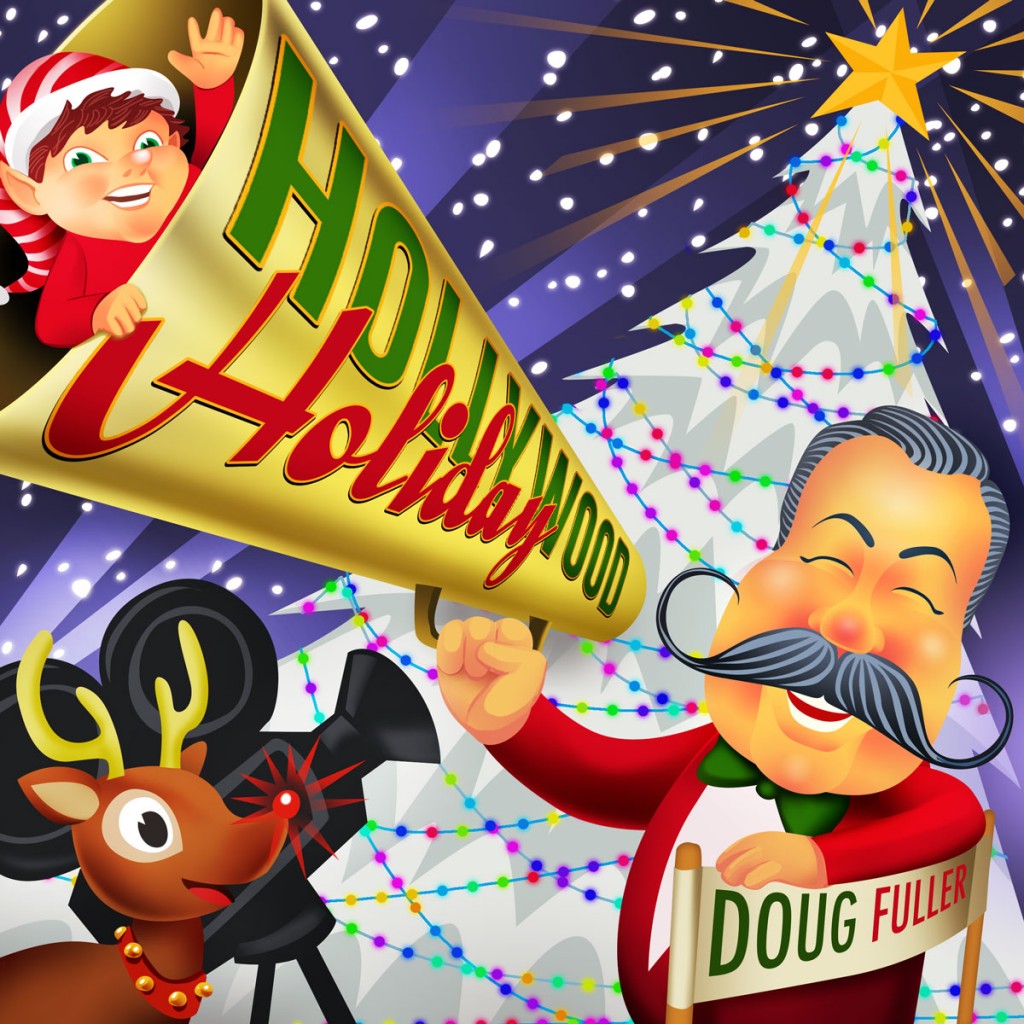 For the 2015 Hollywood Holiday  card I wanted to do a stylized animated look evocative of the Rankin-Bass TV holiday specials from the 1960s. It was also an opportunity to celebrate Doug's new mustache, which for many of us was the most welcome development of the year.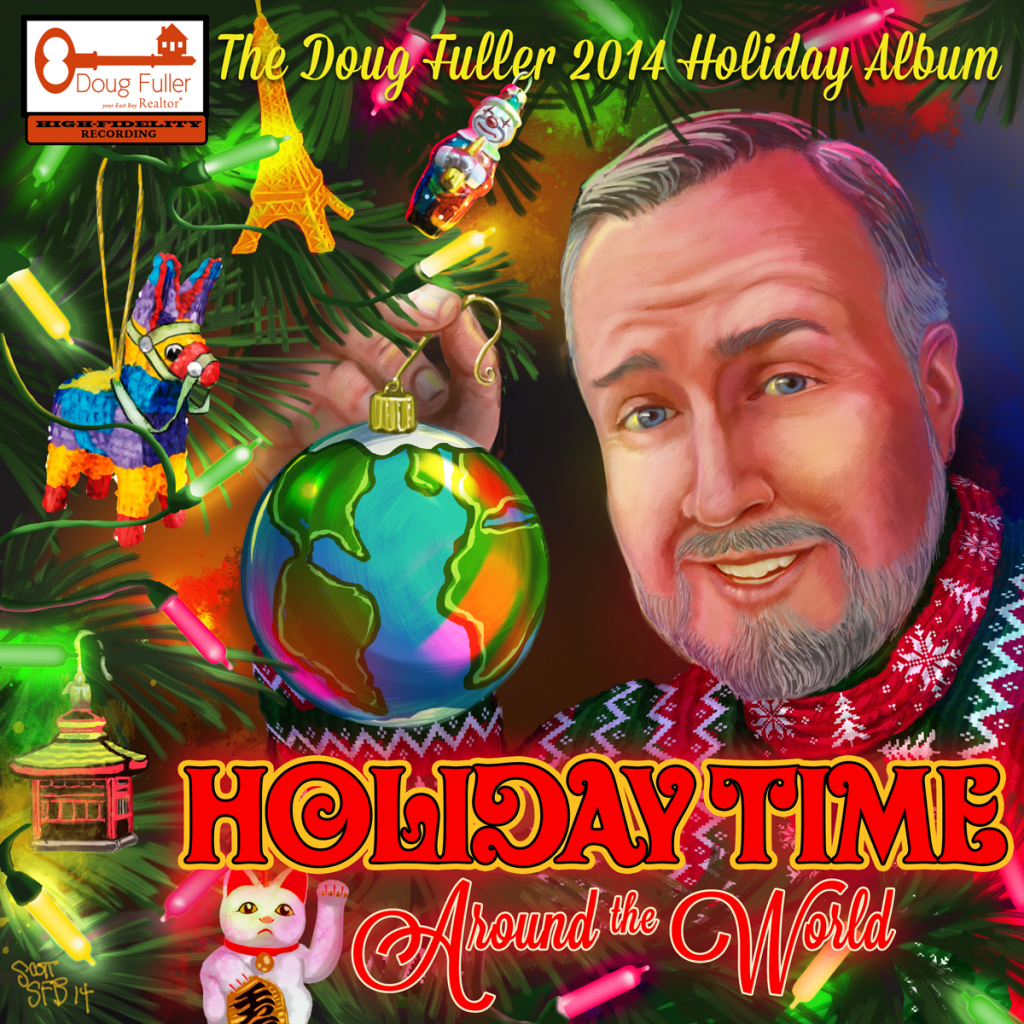 In 2014 I wanted to do a painted album inspired by classic Christmas albums of the 50s and 60s by artists like Dean Martin or Bing Crosby. This is a Photoshop painting that relies heavily on photo reference to establish a strong likeness and using textured art brushes to achieve the look. A super fun project for both us, this got rave reviews from his fans. This is a perfect example of what Secret Fan Base is all about. I admire Doug's unique style and world view and was able to create something wholly original that celebrates and highlights what his fans love about him. Happy New Year!